Colombo
Negombo
Trincomalee
Anuradhapura
Our most exotic tour yet – Sri Lanka 2016
Off the back of the success of our last exotic, travel adventure in India, we are organizing a follow upto 2014 tour of Sri Lanka, this time more bold and varied.
This is an extraordinary adventure over 16 days (14 actual days of touring). We will be meeting some fantastic people, visiting historic locations and monuments made by Kings – as well as watching elephants and taking game drives into two different national parks in Sri Lanka in search of leopards, sloth bears, elephants, wild boar and an abundance of birds and mammals. We'll also be taking two boat trips to the Indian Ocean to see the magnificent blue whales, sperm whales, dolphins and flying fish and we will stay at some fantastic locations and take in some breath taking scenery throughout our stay.
This tour is nearly full now – we can accommodate 2 more people (maximum) but you must contact us before Christmas.
Warning: This is not a good tour if you have issues with chilli in your food, Sri Lankan's do not know the words "No Chillis Please". Also the facilities we will be staying will be very good quality but Sri Lanka as a tropical country has flies and they get everywhere, so if you are squeamish about flies (I am) and you can't shake it off then this is not a good tour for you. Other than that everything else will be awesome
---
Tour Dates: 15th – 30th April 2016 (arriving in UK 7am 01/05/2016)
Tour Costs: £1500 per person sharing twin room or £1800 per person single room, children under 12 half price.
(These costs include: All accommodation with air conditioned rooms and fans with mosquito nets at the eco lodge, 3 main meals a day including breakfast, lunch and dinner (set menus or buffet), 3 bottles of water per day, spacious air conditioned people carrier with experienced driver, transport costs, all entrance fees to attractions, whale watching and park entrance fees, 4 by 4's for safaris with drivers and park guides/boat pilots.
These costs doesn't include drinks with meals (although some hotel buffets do allow drinks as part of the buffet, we will let you know which those are, alcohol, personal items).
Airfare: approx £485.35 (under 12s £395) Emirates via Dubai (deposit £260).
Deposits paid for all travelling so far (6 adult fares, 4 adults and 2 teens and 1 under 12 (a 10 year old)).
If we can have 2 more joining us it will cost each of us including you £100 less either sharing or single.
Key Tour Facts
16-day tour of Sri Lanka;
15th to 30th April 2016 (arriving in UK 7am 01/05/2016)
National Parks, UNESCO World Heritage sites, whale watching and more!
£1500 per person sharing twin room or £1800 per person single room (children under 12 half price).
Airfare: approx £485.
Day 01, April 15th 2016 – 14.15 Departure London Heathrow to Colombo, with Emirates via Dubai arriving following morning 08.45am. (Dubai 2.5 hour transfer time)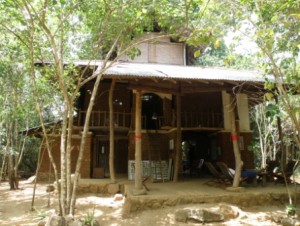 Day 02, April 16th 2016 – Early morning arrival in Sri Lanka and leave for Galkadawela Eco lodge in Habarana (a fantastic eco lodge in the middle of the Habarana forest, a bird sanctuary and a million miles away from the busy hustle and bustle of London or your capital city which you came from in just about 3 hours from the airport).
The eco lodge is a sanctuary for many birds, with swallows nesting in one of the rooms, and a bat roost on the ground floor of one of the guest houses. You can't get much closed to nature safely.
Have breakfast and sleep till afternoon to relax & recuperate from the travel, have a late lunch and in the early evening visit the lake (including a free fish foot massage down the steps – which would cost you a fortune in London but completely free on this trip and the little fish are very enthusiastic and disease free) & the Buddhist temple and the surrounding village to observe village life.
In the early evening we will be driving in 4×4's to one of the massive man made water tanks (Minneria Lake) to watch the largest gathering of Asian Elephants in Asia.
Overnight stay at Galkadawela Lodge.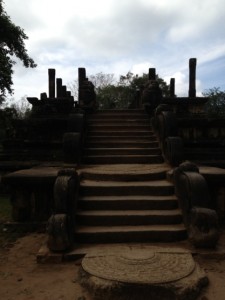 Day 03, April 17th 2016 – Leave after breakfast to Pollonnaruwa cultural site.
Polonnaruwa is the royal ancient city of polonnaru kingdom. The second most ancient of Sri Lanka's kingdoms, Polonnaruwa was first declared the capital city in 1070. Today the ancient city of Polonnaruwa remains one of the best planned archaeological relic sites in the country, standing testimony to the discipline and greatness of the Kingdom's first rulers. Its beauty was also used as a backdrop to filmed scenes for the Duran Duran music video Save a Prayer in 1982. The Ancient City of Polonnaruwa has been declared a World Heritage Site.
Come back for lunch at Sigiriya and in the late afternoon climb the nearby citadel of Sigiriya.
Sigiriya (Lion Rock, Sinhalese – සීගිරිය, pronounced see-gee-REE-yah) is located in the central Matale District of the Central Province, Sri Lanka in an area dominated by a massive column of rock nearly 200 meters high. According to the ancient Sri Lankan chronicle the site was selected by King Kasyapa (477 – 495 AD) for his new capital. He built his palace on the top of this rock and decorated its sides with colourful frescoes. On a small plateau about halfway up the side of this rock he built a gateway in the from of an enormous lion with the entrance through it's open mouth. The feet of this structure still remains. The name of this place is derived from this structure —Sīhāgiri, the Lion Rock. The capital and the royal palace were abandoned after the king's death. It was since used as a Buddhist monastery until 14th century.
Sigiriya is a UNESCO listed World Heritage Site. It is one of the best preserved examples of ancient urban planning. It is the most visited historic site in Sri Lanka.
Come back to supper & overnight stay at Galkadawela lodge.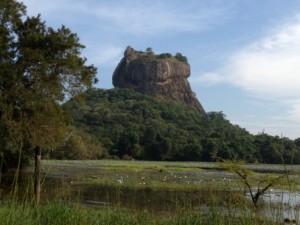 Day 04, April 18th 2016 – After breakfast, check out from the echo lodge and drive to Wilpattu and check into our accommodation rest and have lunch.
Late afternoon game drive in 4 by 4's into Wilpattu National Park.
Wilpattu National Park (Willu-pattu; Land of Lakes) is largest and one of the oldest National Parks in Sri Lanka. The unique feature of this park is the existence of Natural lakes – Natural, sand-rimmed water basins or depressions that fill with rainwater there are nearly sixty lakes (Willu) and tanks and as such it is a major bird watching paradise in Sri Lanka. Wilpattu national park is also world renowned for its Leopard population and much less travelled and visited as opposed to the famous Yala.National Park in the South of the country (which we will also visit later on).
Day 05, April 19th 2016 – After breakfast, take an early morning game drive to Wilpattu for another chance of viewing leopards and other animals if we missed them on our 1st drive.
Have lunch and check out and drive to the ancient city of Anuradhapura.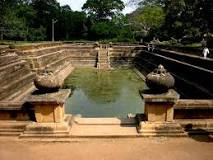 Anuradhapura is one of the ancient capitals of Sri Lanka, famous for its well-preserved ruins of ancient Sri Lankan civilization. It was 3rd capital of the Kingdom. It is believed that from the 4th century BC, it was the capital of the Sinhalese until the beginning of the 11th century AD. During this period it remained one of the most stable and durable centres of political power and urban life in South Asia. The ancient city, considered sacred to the Buddhist world, is today surrounded by monasteries covering an area of over sixteen square miles (40 km²).
The city, now a UNESCO World Heritage Site, was the centre of Theravada Buddhism for many centuries. It is one of the oldest continuously inhabited cities in the world and one of the eight World Heritage Sites of Sri Lanka.
Drive to Trincomalee and check into our beachfront hotel for the night.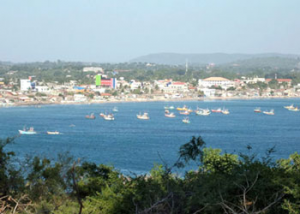 Day 06, April 20th 2016 – After breakfast leave for a walking tour of the city with its famous natural harbor.
Trincomalee is located on the east coast of the island overlooking the harbor, Trincomalee has been one of the main centres of Tamil language speaking culture on the island for over two millennia. With a population of 99,135, the city is built on a peninsula of the same name, which divides its inner and outer harbors. People from Trincomalee are known as Trincomalians.
During the day swim in the sea as much as possible and just relax. Overnight stay in Trincomalee
Day 07, April 21st 2016 – After breakfast, check out of our hotel and drive to Jaffna via the coastal route stopping for lunch on the way. Late afternoon, check into our accommodation and relax. Early evening we can walk the town and see the city's night life. Overnight stay in Jaffna.
Day 08, April 22nd 2016 – After breakfast, tour the city and its many beaches and then check out mid morning and head to the railway station and take the long Northern Line to Colombo, it takes about 6 hours. We will be having packed lunches and tea on the way.
Early evening arriving in Colombo, check into our hotel near the beach for the night stay.
Day 09, April 23rd 2016 – After breakfast take a brief tour of Colombo and proceed to Mirissa (Giragala Village) seaside hotel for our next overnight stay at the sea side town of Mirissa.
In the evening relax and sit by the beach. We may be able to join the locals for a late night beach party if they have one.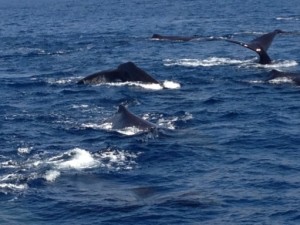 Day 10, April 24th 2016 – Early morning cruises on board spacious boat for Whale Watching. You'll be able to see large pods of dolphins, blue and sperm whales and many other species of whales just a few miles offshore during the season of November to April. Whale and Dolphin Watching Boat departure 7.00 a.m.
Duration of Sail – 3 to 5 Hours
Continental Breakfast pack and mineral water provided before boarding. Medication for Seasick provided before boarding.
The qualified skipper and a very experienced spotter crew will guide you along the tour. The boats are specially custom made to give the passengers a comfortable tour.
In the afternoon and evening we can visit local seaside towns of Galle.
Day 11, April 25th 2016 – Another early morning cruise to the sea to see Whales and for lunch visit the seaside town of Matara, late afternoon take a lagoon safari in a boat (we will book this locally upon availability) come back to Mirissa to check out the night life on the beach.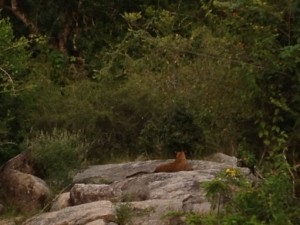 Day 12, April 26th 2016 – Day 12 after Breakfast Leave for Yala National Park check in at the hotel, have lunch and late afternoon proceed to an evening Game Drive in to Yala National Park on 4by4s
Yala National Park is the most visited and second largest national park in Sri Lanka. The park consists of five blocks, two of which are now open to the public, and also adjoining parks. It is situated in the southeast region of the country, and lies in Southern Province and Uva Province. The park covers 979 square kilometres (378 sq mi). Yala was designated as a wildlife sanctuary in 1900, was one of the first two national parks in Sri Lanka. The park is best known for its variety of wild animals. It is important for the conservation of Sri Lankan Elephants and aquatic birds.
The park is situated in the dry semi-arid climatic region and rain is received mainly during the northeast monsoon. Yala hosts a variety of ecosystems ranging from moist monsoon forests to freshwater and marine wetlands. It is one of the 70 Important Bird Areas (IBAs) in Sri Lanka. Yala harbours 215 bird species including six endemic species of Sri Lanka. The number of mammals that has been recorded from the park is 44, and it has one of the highest leopard densities in the world. Sloth bears, elephants, wild boar, wild buffalo, chital deer and many other mammals can be encountered on a typical tour.
The 2004 Indian Ocean tsunami caused severe damage to the Yala National Park and 250 people died in its vicinity but it has now virtually regained all of its former grandeur).
Overnight stay at Tissamaharama.

Day 13, April 27th 2016 – After breakfast, take a morning game drive to Yala, have lunch at the hotel and leave for Bundala Bird Sanctuary and Salt Plans.
Visit the Bird vantage point in Bundala national park and drive to the Salt Pans and natural sand dunes. Return in time for an Evening Game Drive into Yala National Park.
Overnight stay at Yala.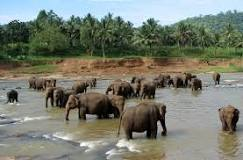 Day 14, April 28th 2016 – After an early breakfast we will be taking a long drive up to Kandy the ancient capital and a major Buddhist centre in Sri Lanka while on route visiting Pinnawala Elephant Orphanage in time to see them bathe in the river nearby. After a late lunch drive to Kandy and check into our hotel and chill out.
Day 15, April 29th 2016 – After breakfast visit Peradeniya botanical gardens after lunch walk around the lake and visit the temple of the tooth, early evening drive back to the seaside town of Negombo, check into our hotel for supper and the night.
Day 16, April 30th 2016 – Stay in Negombo and After lunch depart to the airport – you'll be dropped at the airport by 3PM to get the flight back via Emirates to UK via Dubai which will arrive approx 7am UK time on 01/05/2016.
Tour Costs
£1500 per person sharing twin room or £1800 per person single room (children under 12 half price).
These costs include:
All accommodation with air conditioned rooms and fans with mosquito nets at the eco lodge,
3 main meals a day including breakfast, lunch and dinner (set menus or buffet),
3 bottles of water per day,
spacious air conditioned people carrier with experienced driver,
transport costs,
all entrance fees to attractions,
whale watching and park entrance fees,
4 by 4's for safaris with drivers and park guides/boat pilots.
These costs do not include drinks with meals (although some hotel buffets do allow drinks as part of the buffet, we will let you know which those are), alcohol, personal items.
Airfare: (excluding tour price) £485 (under 12's £395) via Dubai with Emirates Airlines (but this will almost certainly change week by week)
1) Travel & medical insurance – Please get travel and medical insurance if you don't already have it. You cannot come on this tour without both travel and medical insurance.
2) Vaccinations – Please book an appointment with your GP/Surgery Nurse and tell them you are going to Sri Lanka, they will tell you what vaccinations you will need, please tell them we will be visiting Central, East, South East coast and East coast of Sri Lanka (there is no malaria in Sri Lanka but there is something called Dengue Fever which is transmitted by mosquitoes, you will also get hepatitis A and typhoid fever vaccine if you haven't had it in the last 3 years.)
3) Visa – UK Nationals can obtain a visa online which is £35, if you go to Sri Lanka without they will charge $50 for the same, we'll let you know the procedure when you join the group
4) Please get mosquito repellent spray or Citronella essential oil from here as it is impossible to get it from there
5) Just to be on the safe side, before we go please visit your local pharmacy and get a dose of diarrhoea tablets just in case you needed it.
6) Bring about £400 with you for spending on personal items or buying souvenirs etc
7) A smart phone with a camera or a good digital still/video camera
1) 24 hours before we go we will do a web check-in for all of us
2) Please don't bring a lot of luggage, may be a rucksack and a medium sized case on wheels or two rucksacks maximum (make sure you have padlocks for zippers with keys and also your cases are key lockable in addition to combinations locks)
3) All hotels we will be staying more than one night will have laundry facilities (except Galkadawela Lodge).
4) A sun hat, factor 25 or more sun tan lotion, shades (sun glasses), mosquito repellent spray or roll on/citronella essential oil
5) You can sweat a lot because of the humidity, although March is still quite cool compared to the heat from April onwards, so bring loose fitting cotton clothes for example t-shirts or shawls etc, short trousers instead of long ones (pockets with buttons/zips on) or sarongs/wraparounds if you are not comfortable with short trousers are also great for comfort. Flip flops are ok for almost everywhere we'll be going
6) Visits to Polonnaruwa, Anuradhapura and Temple of the tooth in Kandy requires you to wear long trousers and cover your head and shoulders as these are religious sights.
7) You will probably need about 2/3 showers a day for your comfort, 1 when you get up in the morning, another when we get back after an excursion and a final shower before you go to bed (everywhere we stay will have hot & cold running water, we will stay in 4 star hotels with air conditioning and fans and mosquito nets at the eco lodge, all towels, soap & shampoo will be provided by the hotels)