After the Pandemic: Back On Top Retreat
Back On Top Retreat in Cal Simó Spain, from 23rd to 28th April 2023.
Rediscover just what it would take you to regain your physical and mental health by exercising in interesting, eco-friendly and fun ways that has an impact and eating the right food that is tasty, immune boosting and nutritious and learning how to cook it, learning how to relax and be mindful. Away from it all, in Spain. Reset, Release, Relax, Refresh, Recover, Rediscover, Relaunch.
In this Back on Top Retreat we'll be:
Mindset coaching to resolve issues and refocus to what is important to you
Doing Movement Meditation (dance to music) sessions both on land and in the pool
Taking long walks along the coast and to the mountains
Doing Taiso (Zen Shiatsu meridian stretching) by the poolside
Going to local markets and the country side in the fresh air
Taking part in healthy cooking lessons
Learning and doing Zen Meditation
You will leave the retreat going forward with your health, leaving behind the ravages of 2020/21, you will be lighter, fitter both in body and mind, and fully relaxed and recovered and looking forward to the life ahead.
The retreat will be available for vegans, vegetarians and carnivores and the cooking lessons will be tailor made to all those diets but taught at the same classroom.
Our Base
Our base for the retreat is Cal Simó a traditional Catalan farmhouse built in 1850s situated near the village of Canyelles near Stiges, which is just 1 hour from Barcelona's Airport (BCN) in the Catalan country side of Spain and the perfect location for this retreat.
We can all check into the venue (base) which is fully booked for just our party on Sunday 23rd April (2023) evening and we will need to check out of the base on Friday 28th April (2023) by 12noon.
The weekend is a UK bank holiday, I am going to the beach and you are welcome to come too, let me know early as possible.
---
Prices
The price for the retreat is £725 per person room sharing basis, and £825 for single accommodation. To book, please pay a non-refundable deposit of £200 and the balance is due by 23rd March 2023.
Deadline for deposits is 30th November 2022, as we need to book our flight early, to both get a good discount and also be able to have enough seats for us all.
Maximum size of the retreat is 12 and minimum 8.
We offer family/group discounts and discounts for parents travelling with children.
The price includes:
Accommodation during the retreat
All food and drinks consumed in the retreat base including the cost of buying the ingredients by our host and cooking lessons
The cost of all activities
The price excludes:
Airfare
Insurance
Cost of local transfers ie taxis to the venue from the airport and back to the airport, after excursions if you want to get a cab back to the base instead of walking back.
---
Airfares
Airfares from UK: The Best way to get there is by flying with EasyJet from Gatwick. We aim to fly in the same plane as a group if possible, on the morning of 24th April (2022) (Sunday) and fly back either on 29th October (Friday). As soon as we have a good group we can decide.
There are 2 EasyJet flights (this might change by then) from Gatwick, I would like to take the morning flight which departs 11:30am arriving in Barcelona at 2.35pm.
The return flight on Friday departing 8:30pm and arriving in Gatwick by 9.35pm.
There is a morning departure on both days as well but those flights are more expensive.
The cost **currently of a return flight is approx. £145 including booking fee, seat fee, 15kg cabin baggage fee and a meal voucher.
Please note: the flight cost stated above is for this stated flight only, at the time of checking, if you leave later on in the day or the flight is fully booked by the time you join us, eg if you have to book with Ryan Air etc or another airline it may be different.
---
COVID considerations
COVID-19 – FLEXIBLE BOOKING: If the COVID situation worsens and we are unable to travel, what we prefer is to hold it until we are able to travel.
Spain is now open for people coming from UK. If you have had both the vaccines more than 14 days before we travel you will currently not need any tests to arrive in Spain.
If you tested positive for corona virus after arriving in Spain, you will then have to quarantine for 12 days at the venue and get a PCR test or Antigen test to prove you are free of the virus before being allowed to come to UK.
You will also have to fill a passenger locator form before returning to UK.
If you test positive after arriving in UK then usual rules apply.
(This information may change as we go forward.)
Whether you are vaccinated or not you will need to have a PCR or an Antigen test before returning to UK, which can be done for 35 Euros on the day of the departure at Barcelona Airport, and another one 2days after returning to UK. (This information too may change as we go forward.)
---
Ken's story
Ken has been a leadership coach and the CEO of Freedom Works UK (which is a CPD accredited company) since 2012 and has a lot of experience in successfully coaching and mentoring clients in life, career and business. He has also been a qualified and acclaimed Shiatsu practitioner since 2007 .
But in 2017 he was diagnosed with type 2 diabetes and was over weight (in excess of 100kgs). Ken was then forced and challenged to dealing with this situation as a coach and a shiatsu practitioner.
In August 2018, after unsuccessfully attempting to deal with the situation using available advice, tools and knowledge, he embarked on a self styled rehabilitation programme to both lose weight and reverse his diagnosis and regaining his health using his own intuition and testing.
Now, he weighs between 84-87kgs and he has no diabetes symptoms. He has completed a charity running challenge to run 8 kilometres a day for 365 days from 6th June 2020 to 5th June 2021. He is still running to keep fit and eating healthily.
The retreat will be based on all the learning and experience he gained in taking control over what for most people is an uncontrollable situation and succeeding.
---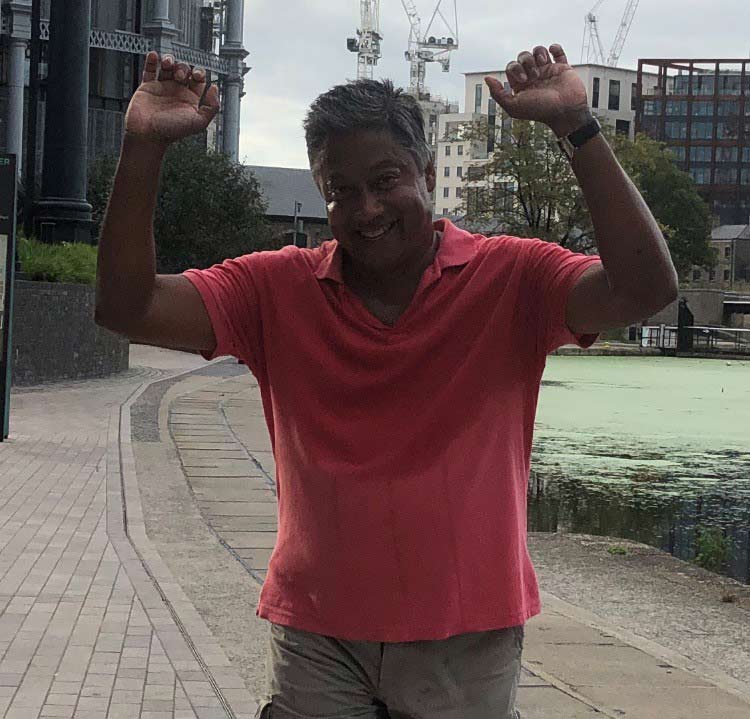 What are we going to be doing?